Let's create your digital marketing strategy!
Digital marketing is powered by content, community, and advertising, which gives businesses the ability to grow faster than their competition. Our marketing goal is simple – plan, analyze, execute, and measure dynamic campaigns that will generate leads and build loyalty. Our services will help you drive conversions and get results.
Other digital marketing options to help your business grow include social media marketing, search engine marketing, mobile marketing, video content marketing, and display banner ads. KLH will help you develop the best strategic plan for your digital marketing needs.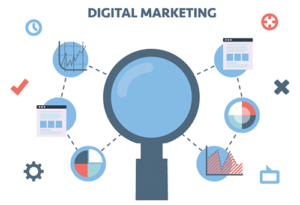 PPC Advertising

Pay-Per-Click & Paid Advertising Strategies
Monthly Ad Maintenance and Review.
Google Adwords, Bing PPC, Facebook Ads, etc.
Monitor Accounts
Review PPC Analytics
Ad Creation and Design
Email Marketing

Custom Email Design
Email List Building
Template Layout
Campaign Management & Analysis
Strategy, Targeting & Delivery Optimization
Do you need digital marketing help?